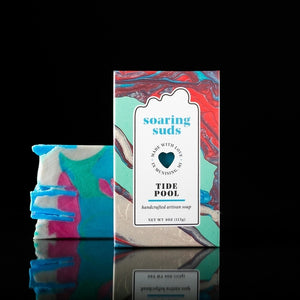 Tide Pool is a refreshing blend of eucalyptus, sage and spearmint.

Coconut milk has been known to prevent premature aging of the skin, the appearance of wrinkles, it also tightens and restores elasticity. It is one of the most effective natural moisturizers. Coconut milk prevents the skin from drying out, promotes exfoliation of dead skin cells, rejuvenates, and makes the skin more smooth and gentle. All of Soaring Suds soap is made using the cold-process method. She makes the soap in small batches and because she hand cuts her soap bars, no two bars are the same.
Ingredients: Coconut Oil, Olive Oil, Rice Bran Oil, Avocado Oil, Shea Butter, Water, Sodium Hydroxide, Coconut Milk, Kaolin Clay, Fragrance, Colorants.

Made in the USA
4oz